NorthWest Detroit Coin Club
"KNOWLEDGE THRU COLLECTING"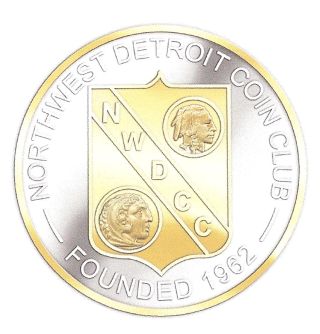 Home Information Meeting Minutes Links History Directions Auctions MyFavoriteCoin Prior Meeting Minutes
Northwest Detroit Coin Club
(nwdcc.org)
Rich Tajer Don Priebe Ron Beier Gary Kelly Tom Klunzinger Xxxx XxXxxxx Marge Mueller
Webmaster Vice President Treasurer President Recording Secretary Bourse Chair Corresponding Secretary
Next Meeting – Tuesday, March 12, 2019
Livonia Senior Center, 15218 Farmington Road – 7:30 pm
Thank you!
Our Bourse Chair Mark thanks all Club members who showed up on Saturday for set-up and on Sunday for everything else, which helped to make our Spring Show a big success! At this meeting, Mark will have a preliminary report on the financial success of the show.
Now that we've rested up a little, we can look forward to the big MSNS Spring Convention in Warren, April 12-14 – as always, the biggest show in our area.
Also as always, at this meeting we'll have Door Prizes, Silver Prizes, the 50/50 Drawing, tasty baked goods, congenial beverages and numismatic fellowship – we hope to have you with us!