Northwest Detroit Coin Club
"KNOWLEDGE THRU COLLECTING"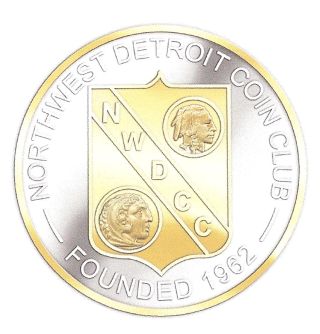 Serving the Metro Detroit Area for over 60 years.
President: Gary Kelly
Vice President: Don Priebe
Recording Secretary: Kevin Markman
Corresponding Secretary: Marge Mueller
---
Our next meeting will on Tuesday, January 25th, 2022 at 7:30 p.m.
Meetings are conviened at 7:30 p.m. on the 2nd & 4th Tuesdays Each Month (except July & August)
Meetings are held at
Livonia Senior Center
15218 Farmington Rd. (South of 5 Mile Rd.)
Livonia, Michigan 48154
Additional Meeting Dates
| | | |
| --- | --- | --- |
| | February 8th | February 22nd |
| March 8th | March 22nd | April 12th |
This February marks the Northwest Detroit Coin Club's 60th Anniversary
Please come celebrate this momentus occasion with your fellow club members
Tuesday, February 22nd, 2022
(Yes, 2/22/2022... That is a lot of 2s)
During our regular second meeting for the month of February
Join us for the festivities. Pizza, drinks and cake will be provided. As well as our usual numismatic hyjinx.
---
Special Events
Thank you for joining us at the most recent club coin show. Our next event is:
Northwest Detroit Coin Club
60th Annual Spring Coin Show
Sunday, March 6th, 2022
9:30am to 3:30pm
Livonia Senior Center
15218 Farmington Rd. (South of 5 Mile Rd.)
Free Admission
Open to the Public
U.S. and Foreign Coins, Currency, Gold and Silver Bullion
For more information, please contact our Bourse Chairperson at:
(734) 480-8226
nwdccboursechairperson@gmail.com
---